It is another momentum of happiness to share the great news of our beloved Hon. Chairman H.E. Dr. Mohammed Omar Bin Haider being honored by the title of "Ambassador of Peace" from the UNIVERSAL PEACE FEDERATION; an NGO in General Consultative Status with The Economic and Social Council of the United Nations (UN's).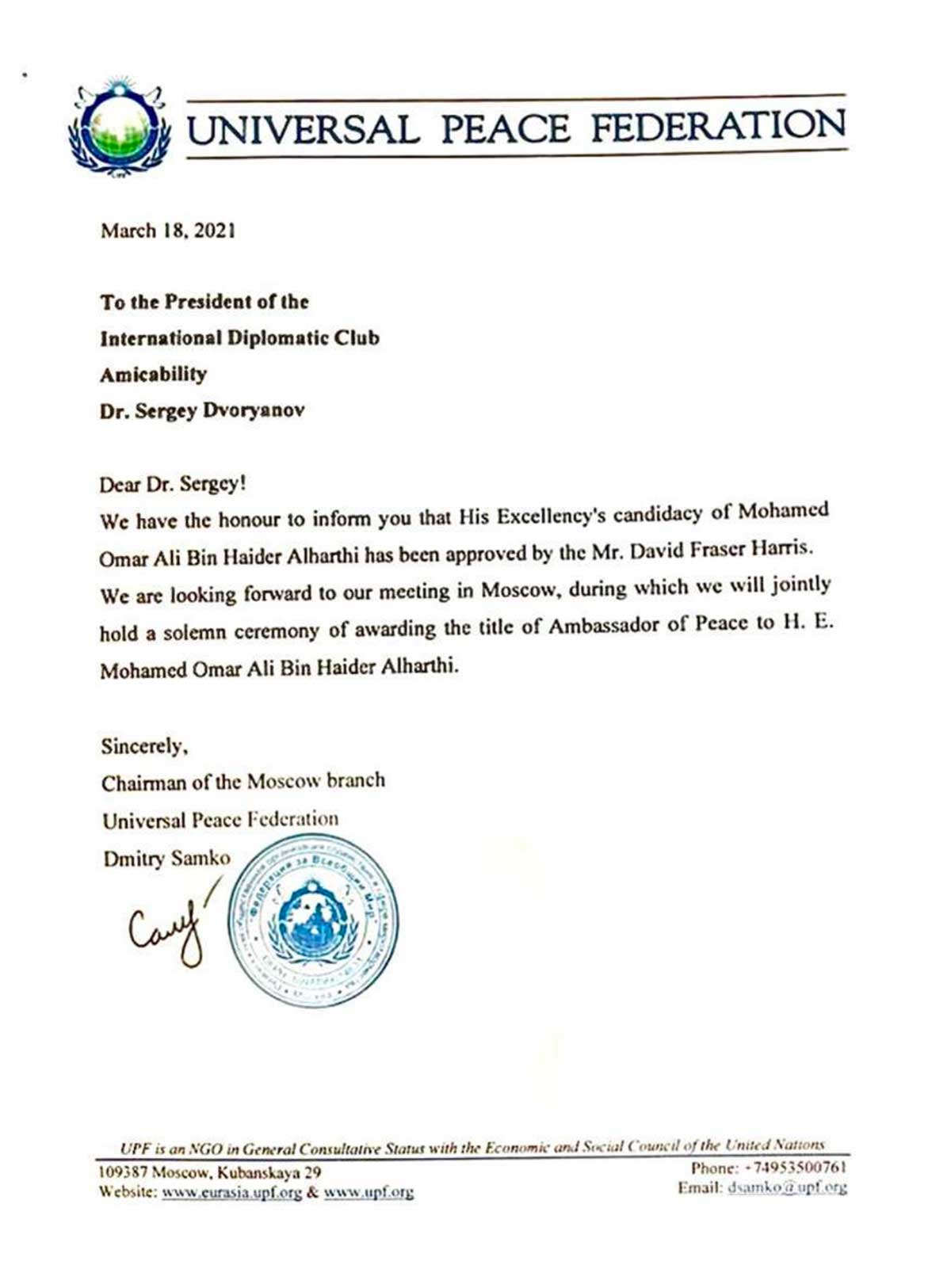 UNIVERSAL PEACE FEDERATION (UPF) promotes the United Nation's Sustainable Development Goals and encourages people to work for peace through serving their communities. UNIVERSAL PEACE FEDERATION (UPF) Launched in 2001, Ambassadors for Peace is the largest and most diverse network of peace leaders. Ambassadors for Peace from 160 countries who come from all walks of life representing many races, religions, nationalities, and cultures,
H.E. Dr. Mohammed Omar Bin Haider will be a real added asset value to the world leaders where their wisdom and experience can be utilized and their initiatives can be discussed in the service of global peace and the betterment of humankind. UNIVERSAL PEACE FEDERATION (UPF) is committed to building a world of peace in which everyone can live in freedom, harmony, cooperation, and prosperity. UPF upholds the core principles of interdependence, mutual prosperity, and universal values, and acts as a facilitator and advisor for the achievement of peace and development. Ambassadors for Peace title award is a crowning project of the Universal Peace Federation, in close cooperation with the International Association of Parliamentarians for Peace, the Interreligious Association for Peace and Development, the International Association of Traditional Rulers for Peace, and other UPF initiatives.
UNIVERSAL PEACE FEDERATION (UPF) will conduct the Solemn Ceremony of awarding the title of Ambassador of Peace to H.E. Dr. Mohammed Omar Bin Haider in Moscow, Russia.